Lose Weight The Intelligent Way
While conducting a training session on Goal-Setting last week, one of the things that I asked the participants to do was write down a personal goal that they would like to accomplish in the upcoming year.
Do you want to guess what the number one goal was at the completion of the exercise? That's right, lose weight!

Without prompting or prior discussion, seventy-five percent of the participants indicated that their goal was to lose twenty to thirty-five pounds this year.

This appears to be a common goal shared by many people and for obvious reasons. The benefits associated with maintaining your weight at the proper level are numerous. The improved health benefits and enhanced self-esteem alone are enough to make this a very desirable goal.

If you're tired of being overweight and struggling constantly to shed those unwanted pounds then it's about time you made up your mind to take action and do something about it.

Numerous studies have indicated that while dieting and taking certain drugs may be effective in the short term, these approaches often fail to help people maintain the weight reduction over the long haul.

Let's face it, if all we had to do to lose weight was take a pill then there would be millions of skinny people running around. When you take a look at the cold, hard facts, there is no magic cure that will help you lose weight and keep it off. Effective weight loss requires a lifestyle change, which means you must develop new habits.

Following the simple steps outlined below will help you reduce your weight intelligently in a steady and controlled manner.

o Record your weight
o Set a short-term goal
o Identify your recommended daily caloric intake
o Write down everything that you eat and drink and record the calories
o Gradually adjust what you eat until your caloric intake falls within range
o Consume nutritional items from the basic food groups
o Monitor your weight at least once a week
o Eat smaller meals more frequently throughout the day
o Don't eat late at night
o Increase your activity level
Developing and maintaining good eating habits are the keys to effective weight loss management. Making intelligent choices will enable you to achieve sustainable results that will pay big dividends in the form of improved health and positive self-image.

http://EzineArticles.com/?expert=Laney_Lockhart
Keep your diet and weight loss management program on track by keeping your diet and weight loss goals in front of you at all times with these motivational and inspirational reminders.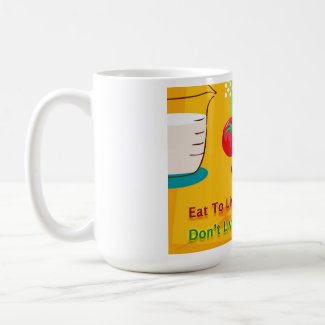 Eat To Live Diet and Weight Loss Coffee Mugs
by
greetingcards4all
See more motivational diet and weight loss products:
http://www.zazzle.com/greetingcards4all/diet+gifts